Stillingsopslag
Engineering Tools Developer – COPENHAGEN
Do you want to work on modern frameworks, cloud-based infrastructure and create awesome applications? Do you want to take part in developing the products of one of the fastest growing online companies in Europe? If words like "Microservices", "Serverless", "Docker", and "Continuous Delivery" get you excited as they do for us, we want to hear from you!
We are seeking a developer who has strong experience building tools and infrastructure automation that enables other developers to work as efficiently as possible. We are looking for someone who is a team player and ready to help wherever necessary – no task is too small or insignificant. We expect you to engage with the other developers and cloud engineers and seek out new ways to keep us at the forefront of how cloud applications are produced, delivered, run and scaled.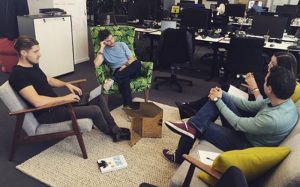 We talk about technology a lot, we like to have fun and we like getting work done. At Trustpilot, there aren't any boring days. Do you feel that you have a great idea, perhaps something that someone else missed? We provide 20% time so you can try out these ideas – whether they end up working or not.
At Trustpilot, we work as a team and deliver as a team. The environment that we cultivate includes working with brilliant people who help each other at every step, while at the same time pushing you to bring your A game every day. Our process makes us focus on the things that are important – without interruptions.
Join our team and change the way you work. Are you up for the challenge?
We offer
"20% time" – be the most innovative you can be and work on anything you'd like!
Continuously deliver software that you build, within minutes of development
Work with cool technologies such as MongoDB, .NET, Python, Node.js, APIs, queues and a lot of the services AWS has to offer
Language-agnosticism. Use the best tools for the job!
A key part of an exciting international growth journey
Opportunities to learn from the best and develop your career
Tools & Services
http://stackshare.io/trustpilot
AWS: ECS, Lambda, API Gateway, SNS, SQS, S3, ELB, EC2, Cloudfront, CloudSearch and more
Git, GitHub
Apigee (Api management)
Runscope, GhostInspector, BrowserStack
Segment.com, chart.io, Amplitude
Appveyor, Travis-ci, Octopus Deploy, NewRelic, ELK
Gmail, Google calendar, Google Drive, etc.
Trello (for all project management, and a lot of other things)
Technologies
Languages: Javascript (SPAs, Node.js, frontend), Python, C# (.NET and .NET Core)
MongoDB, Redis, Redshift, DynamoDB
Docker
Application:
To apply for this position, please submit your CV and a cover letter telling us why you think you'd be great for this job.
To be considered for this role, you'll need to complete our Code Challenge and submit a solution together with your application. You can find challenge here: Code Challenge
If you have questions, please feel free to contact our tech recruiter, Anabel Morales, at anm@trustpilot.com
About Trustpilot
Trustpilot is an online review-driven community and platform that builds relationships between consumers and businesses. Launched in 2007, it has seen rapid adoption and now provides over 150,000 e-commerce businesses with TrustScores based on more than 35 million reviews. The company has developed strong positions in Europe and the US, and is now entering other parts of the globe. Trustpilot enables e-commerce businesses to engage with customers directly, inviting them to provide reviews of their online experience. This enables brands, in an increasingly crowded online world, to have a better dialogue with customers and channel feedback to improve business operations and customer satisfaction.
Om Trustpilot
LIFE AT TRUSTPILOT
With 6 offices and counting across the globe, our mission to provide authentic reviews to customers and businesses alike can only be accomplished with input from each Trustie around the world. Together we're constantly brainstorming as a team, building and executing ideas together and then celebrating big.
We're travelers and adventure seekers, foodies and coffee snobs, movie critics and musicologists. We're passionate about our success and strive to be better every day.
BE PART OF THE TEAM
Be agile and open-minded. Be flexible. Adapt. Accelerate growth and embrace challenges.